Thank you for trusting in me!
Your kit is on its way to your inbox . . . be sure to check your spam and promos tabs! And please don't let this sit on your virtual shelf — jump right in and start taking action. Because the world needs you.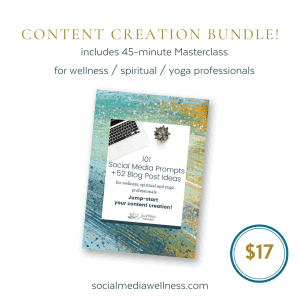 My mission is to MAKE AN IMPACT.
To teach good people doing good things how to show up online with more confidence, intention, authenticity AND a whole lot more EASE.
If you're wanting to jump-start your online presence, I'm offering my 101 Social Media Post Prompts + 52 Blog Post Ideas + Masterclass for just $17.
With a background in health and yoga, I created these post ideas with wellness professionals in mind!