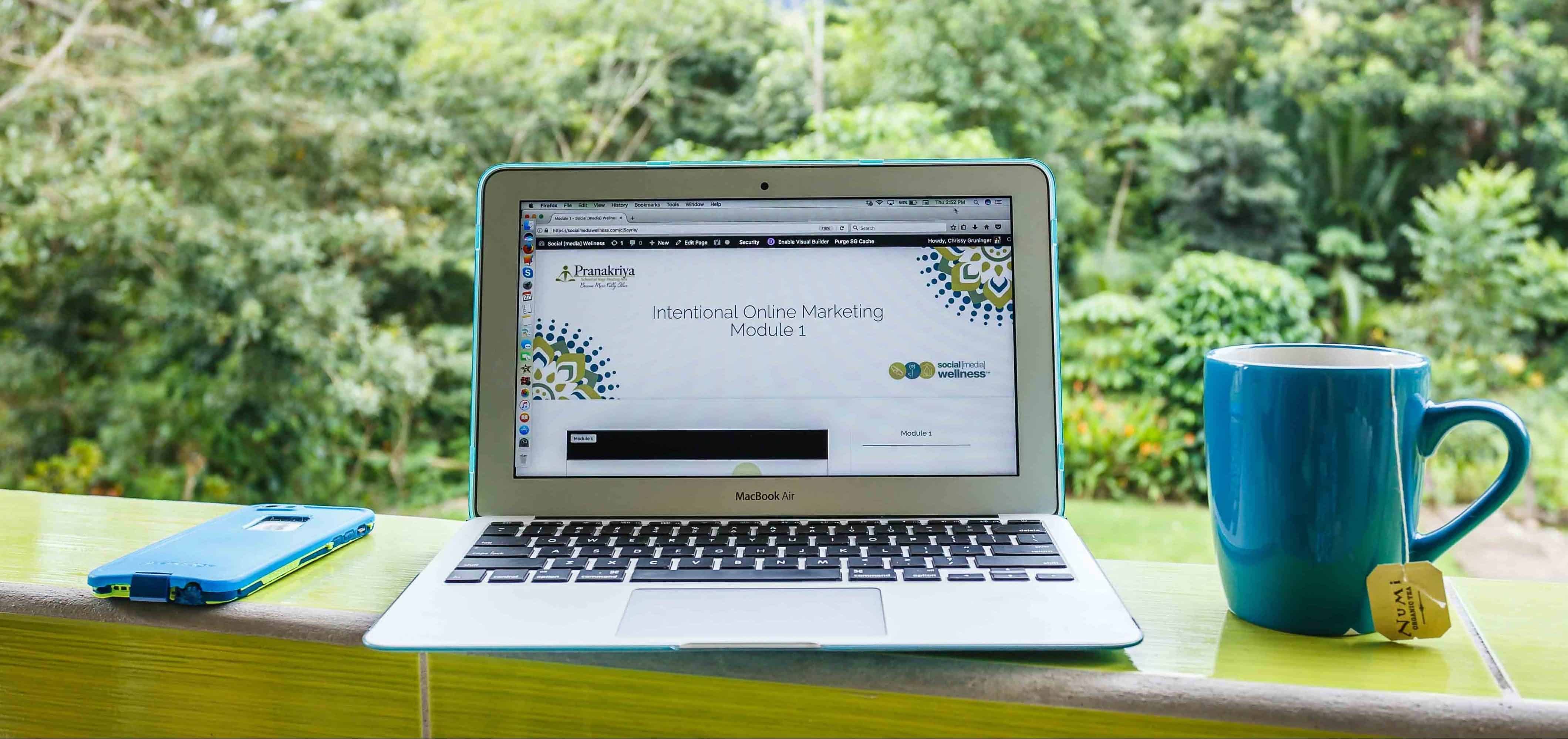 Intentional Online Marketing:
A Training for Yoga Teachers
This program was originally created in collaboration with Pranakriya School of Yoga Healing Arts and Social [media] Wellness as an introductory online training on how to ethically market oneself as a yoga teacher.
Intentional Online Marketing for Yoga Teachers is a DIY training offered online and in bite-size chunks.
I've done this for 2 reasons:
This training offers succinct information with easy to follow instructions so that you can immediately take action and begin applying the concepts.
Because I respect your time and want you to feel empowered, not overwhelmed, this program is focused on the core principles you need to know. You won't find any of the extra fluff and padding that often clogs up online trainings.
I want to ensure you are comfortable and clear!
Before the training, I was feeling overwhemed by social media marketing and each week felt like a heavy burden. Once the training started it was like the weight had lifted! I had small, manageable assignments that helped guide me into where I want to focus my time and efforts. I learned more about how I want to show up in the world and now I feel energized and more clear about steps I can take to keep improving my website, blog and social media posts. Thank you!
The Intentional Online Marketing for Yoga Teachers provided a nice framework that allowed me to take bite sized pieces of the social media world and incorporate it into my business in a manageable way. Chrissy was great about answering questions in a timely manner and generous with sharing her knowledge on the topic.
Module 1: Introductions and Overview
We'll kick off Intentional Online Marketing with an overview of the program and begin to assess what you'll need (or perhaps what you already have) to market yourself online.
Module 3: Building (Or Reviewing) Your Website
You will work on the set up and design of your website or, if you already have a website, you'll still want to watch these videos to ensure you aren't missing anything!
Module 5: Social Media Marketing
You will jump down the massive rabbit hole into social media marketing, learn about the most popular channels, and where you should – or should not – be spending your time. I will teach you how to create content with contentment as well as logistics and the option of outsourcing.
Module 2: Exploring YOU and your teaching path
You'll explore who you are and who you most want to work with, based on your life's path and the goals you have for your yoga teaching career.
Module 4: Online Communications
In this week, you'll develop a marketing strategy for all your communications in the online world. You'll explore the different options available like blogging, email marketing, podcasting and guest posting and decide how you most want to show up.
Module 6: Facebook and Instagram Ads
You'll learn how to set up and manage ads on Facebook and Instagram. It's not as scary (or as expensive) as it may seem.
Presentation style videos for each module
PDF workbooks for each module
Bonus step-by-step tutorial videos
Access to the training, including updates and new bonuses (for the life of the program)
Convenience of learning at home, on your own time
Invest in Yourself and Your Career
You deserve to make your yoga teaching career a sustainable way of life.
As a yoga teacher, learning the basics of how to ethically and intentionally market yourself online will not only put you in a better position to build your business and sustain your career, but you will also be able to reach more people and create meaningful change out in the world.
After encouragement from a few Pranakriya directors, I decided to take the online marketing course to develop my own personal page/brand. While parts were challenging, I think my biggest impact was in module 2, where I explored my ideal customer and my personal voice as an instructor. I also have a website and social media pages (mostly) developed and for this I am grateful for what I did accomplish with Chrissy's help!
Wow, what a great course! Chrissy offers step-by-step guidance for beginning and/or increasing your online presence from creating your own website to navigating the intricacies of social media. The in-depth knowledge and tips that Chrissy shares is invaluable.
Frequently Asked Questions
Is this training only for yoga teachers?
While Intentional Online Marketing was created for yoga teachers, the content can be applied to all wellness professionals.
Why is the Pranakriya logo included in the material?
This online marketing training was originally created for the teachers at Pranakriya School of Yoga Healing Arts, a non profit organization. Social [media] Wellness™ donates 15% of all purchases of the DIY training to Pranakriya.
How much time will the training take?
As this is a DIY online marketing training, you get to decide how much time to spend! Upon purchasing the program, you will receive instant access to all 6 modules.
Do you offer refunds?
You will receive instant access to the program and all of its content and therefore, no refunds are given.
Do you offer additional support?
For people who purchase the DIY program and would like additional support, Chrissy offers a 15% discount off her current strategy, website and membership site rates.
Interested in a group program?
Interested in running an Online Group program for you and your wellness colleagues? The Live version of this training includes Chrissy's personal feedback, group calls and a private Facebook group. Please use the form below to contact Chrissy to discuss options and pricing.
Chrissy Gruninger is the owner of Social [media] Wellness™. She is an Online Business Manager, afire with fresh ideas for those she supports. She works with eco and wellness companies and individuals, who are committed to creating oneness and spreading positive energy in both their work and personal lives.
She blends a background in conscious living with 7 years of online marketing experience (+ 20 years of business administration and project management), helping her clients bring their positive messages of well-being and harmony into the world.